Home ::
Hub Activities

Hub Activities
To effectively achieve the Hub's goals, an integrated set of activities are needed. Key activities for 2017/18 include:
Create knowledge exchange and connection opportunities
1. Two key events were undertaken in 2018, to provide opportunities for knowledge exchange and connectivity between policy, science and practitioners.
The Applied Aquatic Ecology Hub hosted a two-day forum "Water for the Environment: Share, Connect & Improve" (WFE : SCI) that specifically aimed to understand and improve the effectiveness, efficiency and impact of the knowledge exchange interface in environmental water planning and decision making. Over 100 environmental water professionals from NSW, Victoria, South Australia and the ACT, representing a mix of those working in research, management, Traditional Owners and policy and program development attended the two days. A participant survey showed:
95% strongly agreed or agreed that they built and/or strengthened networks with those working in e-water
89% strongly agreed or agreed they are more aware of the tools available to help them interact in the science-policy-management community interface
89% strongly agreed or agreed that they will take steps within their role to improve the science-policy-management community interface
80% of people said they would keep in contact with at least some of the people they met at the forum
95% strongly agreed or agreed that they would recommend attending a similar forum
91% strongly agreed or agreed that the forum had a good mix of presentations that were relevant
89% strongly agreed or agreed that they would attend a similar forum
2. The Hub also sponsored a Fish Habitat forum in Myrtleford in late April.
Increase the accessibility of existing research and monitoring projects
A Research and Monitoring Directory (RaMonD) has been developed, representing a comprehensive collection of publications associated with monitoring and research in aquatic environments in Victoria. So far, it includes about 700 records of monitoring and research activities of partner organisations (largely between 2013-2017). The records for the Hub theme environmental water are shown.
It is intended that the directory will enable easy retrieval of meta data (summary information) and downloadable reports for each project. This information can help identify where our knowledge gaps are, as well as where there are associations and potential duplication of effort in research and monitoring activities.
Identify the gaps in our existing research and monitoring work and our knowledge needs
Partner organizations invest significant resources in research and monitoring activities, which should be strategically targeted to achieve maximum benefits. There is an ever-increasing need to understand where any core gaps exist in the alignment of current policy needs and these activities. Filling knowledge gaps can help ensure the best information is available for government to make future decisions.
There will also be future knowledge needs to inform policy and program development in areas such as climate change, social and economic impacts and return on investment.
A gap analysis process has been developed for the following key purposes:
To gain a greater understanding of the alignment between current research and monitoring activities and the existing statutory framework
To provide insights into the current capacity to guide and meet future policy and program directions.
Two processes were undertaken by the Hub:
Identification and specification of evidence needs from existing policy within the Victorian Waterway Management Strategy. This was done for both estuary and riparian policy as examples of the process
Development of a process to identify knowledge gaps in a) existing policy and b) new and emerging areas
There can be gaps in aquatic knowledge due to:
A lack of research on specific topics and issues
Existing research not being relevant or targeted to meet management and reporting needs
Research on specific topics and issues being outdated, or having issues related to scientific approach
Difficulties in carrying out research on topics and issues that are complex and difficult to study. This includes where long-term investment, large-scale projects and ongoing monitoring is needed to demonstrate improvements in environmental condition of waterways.
Create a Hub Strategic Plan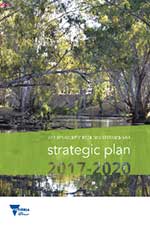 The Applied Aquatic Ecology Research Hub Strategic Plan (2017-2020) was published in late 2017. This Plan sets out the reasons for creating a Hub, its principles and goals, the research and monitoring themes, where it fits within Government policy as well as its implementation and evaluation.

3 MB
Create a Hub Engagement Strategy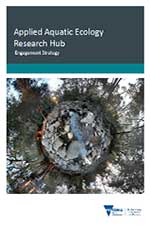 An Applied Aquatic Ecology Research Hub Engagement Strategy was prepared in 2017. This Strategy sets out the engagement approach, key messages, target audience, engagement and evaluation methods.

660 KB